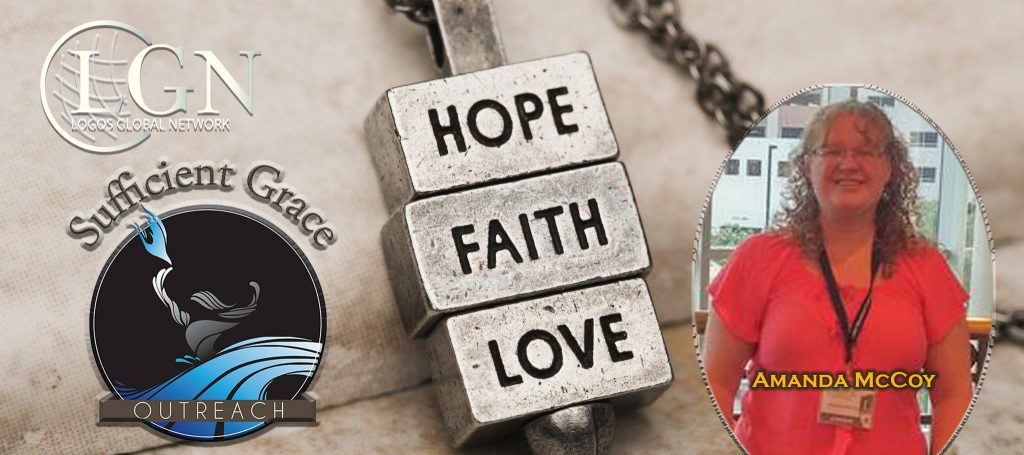 When the ministry that I had been a part of decided to close the doors on their outreach program, several of the volunteers and I determined to continue the outreach. There was just one problem ..... We had no clue on where to even begin.
That is when the Logos Global Network entered the picture.  Two LGN members, Dr. Shirley Wood and Christine Manders,  attended our initial meeting to discuss ideas of what this may look like. We had only thought we would be a small group doing outreach on our own until Dr. Shirley suggested we become a registered 501C3 Non Profit. This is when Sufficient Grace Outreach was born.
Dr. Shirley and Christine along with LGN, helped us with the paperwork and the action plan on becoming a registered not-for-profit entity with the IRS.  We didn't have the necessary funding at that time to get our own 501C3 status. So the Logos Global Network stepped in and let the Sufficient Grace Outreach be covered underneath their 501C3 group status until we were able to get our own. This helped SGO out so much.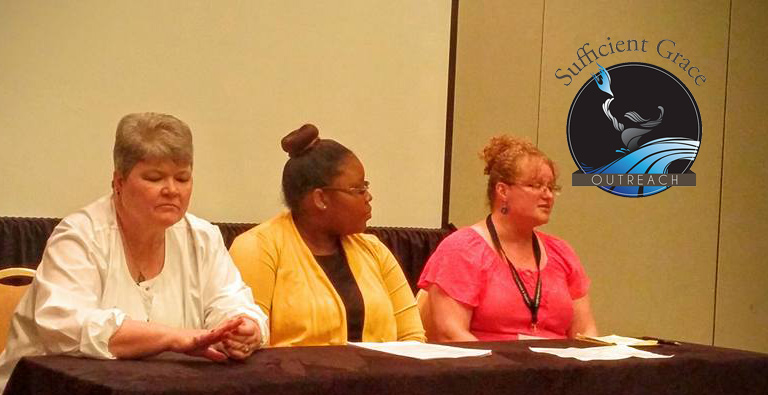 Being recognized as a 501C3 allowed us to give tax-benefits to our donors; and we started getting more and more donations and support. God is using the Logos Global Network to help ordinary individuals like our volunteers and me to be the hands and feet of Jesus top hurting people.
We continue to have LGN's support of our ministry today, after almost 5 years of ministry. Thank you LGN! You are making a difference in the lives of many! You truly enable ministry, missions and education.
ABOUT SUFFICIENT GRACE OUTREACH MINISTRY
Sufficient Grace Outreach, Inc. in Asheville, NC is organized for the specific purpose of outreach to women and/or children involved in human trafficking; but does not limit their reach to this demographic, realizing that the plight of victims of human trafficking is not limited to women and/or children. Sufficient Grace will reach out to anyone regardless of race, gender, or creed in order to help them achieve freedom and safety. As opportunity and need arises, Sufficient Grace Outreach Inc will expand its reach to anyone it finds in need.
Human Trafficking happens here in the US, in our very own backyards not just overseas. At least 100,000 American children are being exploited through pornography or prostitution every year (Shared Hope International) and are trafficking victims between the ages of 12-17 years old. These are our daughters, nieces, friends, family, and neighbors. Traffickers take pictures of these children and post them on various websites, lying about their age (you have to be 18 and older to post ads). This is how they sell these children.

Human trafficking generates $9.5 billion yearly in the United States. (United Nations)

Approximately 300,000 children are at risk of being prostituted in the United States. (U.S. Department of Justice)

The average age of entry into prostitution for a child victim in the United States is 13-14 years old. (U.S. Department of Justice)

A pimp can make $150,000-$200,000 per child each year and the average pimp has 4 to 6 girls. (U.S. Justice Department, National Center for Missing and Exploited Children)

The average victim may be forced to have sex up to 20-48 times a day. (Polaris Project)

One in three teens on the street will be lured toward prostitution within 48 hours of leaving home. (National Runaway Hotline)

After drug dealing, human trafficking is tied with the illegal arms trade as the second largest criminal industry in the world, and it is the fastest growing.

North Carolina is ranked as a top ten state for human trafficking. It is estimated that North Carolina ranks number 7 or 8, this depends on which article you read. According to the Daily Tarheel, the state does rank in the top-ten the country The statistics are staggering: more than 1700 girls are estimated to be trafficked in North Carolina each year, but probably the most sad statistic of them all, being that girls as young as 12 years old are apart of that number. The city of Charlotte ranks as the 6th city in the country for trafficking.